Tonsillectomy
A tonsillectomy may improve your quality of life if you are suffering from health issues relating to your tonsils.
Consultations for this treatment are available at:
KIMS Hospital or Sevenoaks Medical Centre - you can request your preferred location when you contact us
See our consultants
Prices & payment
Enquiries & appointments
The tonsils are two small glands at the back of your throat. They're part of your immune system that helps to fight off infections. This is achieved by trapping bacteria and viruses that enter your body through your mouth or nose. However, when the tonsils become infected or swollen, they can cause a range of health problems, from recurrent sore throats to sleep apnoea. Removal of the tonsils will not affect the immune system function as your body has many other tissue like lymph glands.
If tonsil problems persist, your Consultant may recommend tonsil surgery so you can get back to feeling your best.
What is a
tonsillectomy?
A tonsillectomy is a surgical procedure that involves the removal of one or both tonsils. It's usually done as a day case procedure under general anaesthesia and takes about 20 to 30 minutes to complete.
Tonsil removal surgery can be a treatment for a range of health issues including:
Chronic tonsillitis: If you have recurrent episodes of tonsillitis, where you experience symptoms like sore throat, difficulty in swallowing, fever, etc
Recurrent quinsy: An abscess around your tonsil due to tonsillitis
Sleep apnoea: If you're struggling to breathe and experiencing pauses in breathing during sleep
Enlarged tonsils: If you have enlarged tonsils that cause difficulty in breathing, swallowing, or speaking, then tonsillectomy can help in improving these symptoms
Cancer: In rare cases, tonsillectomy may be performed to remove cancerous cells from the tonsils
A tonsillectomy can be either done through the traditional method (extra-capsular tonsillectomy) or the more gentle coblation technique (intra-capsular tonsillectomy).
You can see expert consultants and have a range of scans and tests at either one of the below facilities. If you need tonsil surgery, this will be carried out at KIMS Hospital in Maidstone.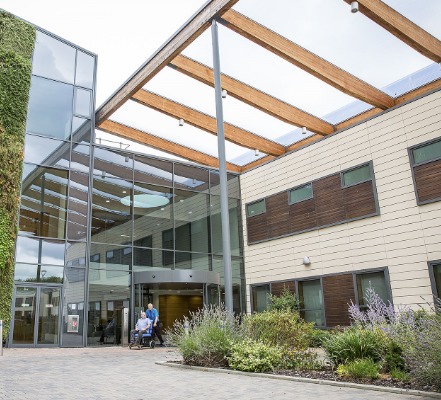 KIMS Hospital, Maidstone
Find out more about the facilities available at KIMS Hospital.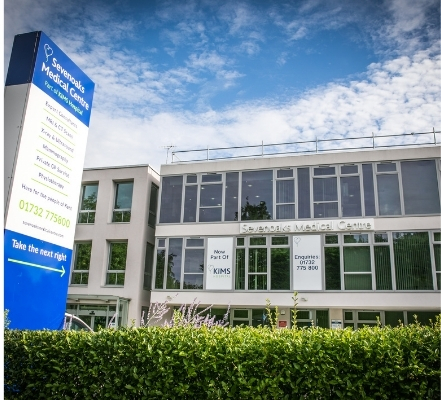 Sevenoaks Medical Centre
Find out more about Sevenoaks Medical Centre, our consulting and diagnostic facility for patients in West Kent.
Prices & payment
We offer a guide price from:
Private tonsillectomy
£3,081
The above are guide prices only.
Are there any risks with a tonsillectomy?
Like any surgical procedure, a tonsillectomy has some risks associated such as infection, bleeding, pain and dehydration. Your Consultant will discuss these risks with you ahead of your surgery.
How long will it take to recover?
The recovery process after tonsillectomy usually takes about 1-2 weeks. During this time, it is important to follow your Consultant's instructions and get plenty of rest. Painkillers and other medications may be prescribed to relieve pain and discomfort.
What can I eat?
Stick to soft foods that are easy to swallow, such as soups, cooked pastas, mashed potatoes, soft fruit and yogurt.
Avoid foods that are crunchy or have sharp edges. Irritants such as spicy foods, acidic foods and alcohol could also irritate the throat and delay the healing process.
It's also important to drink plenty of fluids to avoid dehydration.
Can't find the answers you need?
Give us a call on 01622 237500
Make a general enquiry

Appointment enquiry
Our team are on hand to help answer any queries you might have about coming to KIMS Hospital or Sevenoaks Medical Centre. You can use the form below and one of our team will be in touch. Alternatively to speak to a member of our friendly team, please call 01622 237 500 between 8am-8pm Monday to Friday.
If you would like to book an appointment, you can use the form below and one of our team will be in touch.
Alternatively to speak to a member of our friendly team, please call 01622 237 500 between 8am-8pm Monday to Friday.
Please be aware, if you are requesting a diagnostic scan such as an MRI, or CT, you must have a referral from a relevant clinician or Allied Health professional such as a physiotherapist.