Shoulder replacement surgery
When pain in your shoulder becomes too much and starts to affect your functionality and mobility, we can help improve your quality of life
Consultations for this treatment are available at:
KIMS Hospital or Sevenoaks Medical Centre - you can request your preferred location when you contact us
See our consultants
Prices & payment
Enquiries & appointments
Our shoulders take a lot of strain over time, and we can become prone to arthritic conditions or cartilage damage. When shoulder pain is affecting your everyday life, it's time to seek help from a Consultant and discuss your best options for treatment.
Helping you regain function in your shoulder
Usually, shoulder pain comes from the bones rubbing together as the cartilage wears away over time, or from arthritic conditions such as osteoarthritis and rheumatoid arthritis. A total shoulder replacement operation is generally recommended after you have received other treatments over a long period of time, such as physiotherapy and pain medication.
The first step is to have an initial consultation with a Shoulder Surgeon who will discuss your options for shoulder replacement surgery or other possible treatments. You can choose to have this appointment at KIMS Hospital or Sevenoaks Medical Centre. Your Shoulder Surgeon will ask you about your lifestyle and medical history to determine possible causes of your pain, and you may be referred to our diagnostic imaging services to assist a diagnosis.
You can see expert consultants and have a range of scans and tests at either one of our facilities below. If you need a shoulder operation or total shoulder replacement, this will be carried out at KIMS Hospital in Maidstone.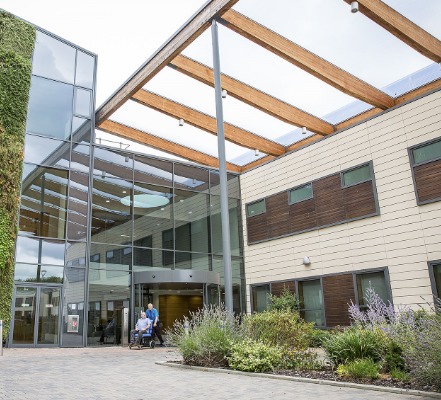 KIMS Hospital, Maidstone
Find out more about the facilities available at KIMS Hospital.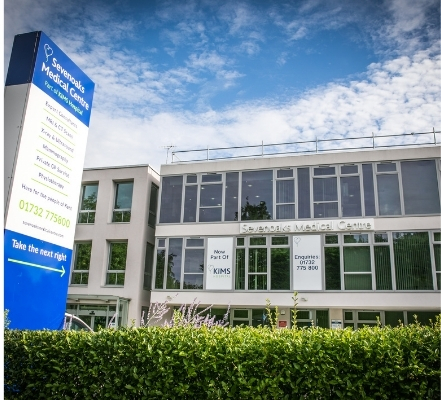 Sevenoaks Medical Centre
Find out more about Sevenoaks Medical Centre, our consulting and diagnostic facility for patients in West Kent.
Prices & payment
We offer a guide price of:
Shoulder replacement surgery
£13,000
The above are guide prices only.
Shoulder replacement surgery FAQs
Where will my shoulder surgery take place?
Regardless of where you had your initial consultation or tests, shoulder replacement surgery and operations take place at KIMS Hospital in Maidstone. Most outpatient appointments, including follow up appointments with your Consultant, can take place at either KIMS Hospital or Sevenoaks Medical Centre.
What does a shoulder replacement surgery involve?
Your Consultant will make an incision along the front of your shoulder to remove the damaged ball and examine the remaining socket. Depending on the extent of arthritic damage, the socket may or may not need to be replaced.
The damaged ball is usually replaced by a metal component and the socket by a plastic one. The replacement ball is fixed to the top of the humerus using a special coating and the socket is fixed with acrylic cement bonding directly with the bones. Your Consultant will then close the incision with stitches or clips.
An Anaesthetist will discuss the best anaesthetic for you, and you will receive local anaesthetic to the shoulder area after the procedure to assist with pain relief. You will generally also be given regular anti-inflammatory painkillers throughout your stay.
How long will I stay in hospital after shoulder surgery?
You will usually be in hospital for one night, depending on the progress you make following your procedure. Your Shoulder Surgeon will discuss this with you prior to your procedure and you will also work with the Physiotherapy team on moving your arm, whilst regaining your confidence.
How long does it take to recover after shoulder surgery and will I be in pain?
Recovery time will vary for each individual, depending on the progress made. Your shoulder will be very stiff to begin with and you will need to use a sling for four to six weeks to support your arm; your Physiotherapist will be able to advise on any exercises to help support your mobility.
What is the best preparation for aiding recovery?
It's important that you allow yourself enough time to heal properly and complete your physiotherapy programme following surgery, but it's always best to be well informed about your procedure ahead of going in.
When you are ready to go home, you will need to arrange for someone to collect you and settle you back home. You will be given painkillers and a number to call in case of any concerns. It is recommended you leave your bandage in place for two to three days and try not to let your wound get wet for five days; we will provide you with a waterproof dressing.
Shoulder replacements can last for up to 15 years, but it is usually recommended that you have a shoulder X-ray every five years.
When can I drive again?
Do not drive a car or operate machinery until you are mobile and feel completely confident to do so. You should check with your insurance company before driving as insurance policies are all slightly different. Most patients can drive again six to eight weeks after shoulder replacement surgery.
Can't find the answers you need?
Give us a call on 01622 237727
Make a general enquiry

Appointment enquiry
Our team are on hand to help answer any queries you might have about coming to KIMS Hospital or Sevenoaks Medical Centre. You can use the form below and one of our team will be in touch. Alternatively to speak to a member of our friendly team, please call 01622 237 500 between 8am-8pm Monday to Friday.
If you would like to book an appointment, you can use the form below and one of our team will be in touch.
Alternatively to speak to a member of our friendly team, please call 01622 237 500 between 8am-8pm Monday to Friday.
Please be aware, if you are requesting a diagnostic scan such as an MRI, or CT, you must have a referral from a relevant clinician or Allied Health professional such as a physiotherapist.