Scans, tests & treatments available
Circumcision
HoLEP - Laser prostate treatment
Kidney stone treatment
Transurethral resection of bladder tumour
Transurethral resection of the prostate
Vasectomy
Vasectomy reversal
NHS Practices
Maidstone and Tunbridge Wells NHS Trust
Professional Profile
Thomas Smith is a Consultant Urological Surgeon at Maidstone and Tunbridge Wells NHS Trust. He completed his undergraduate medical studies and basic training at University College London. His specialist urological training was in South London, Kent, Surrey and Sussex. Having excelled during training Mr Smith became the first urologist in the United Kingdom to be fast-tracked and complete his training early.
He has a specialist interest in the management and prevention of kidney stones including laser stone surgery and in the management of prostate enlargement including laser prostate resection (Holmium Laser Enucleation of the Prostate).
You can visit Mr Smith's website at www.tomsmithurology.com
Thomas recently had an article featured in The Guardian's New Year, New You supplement. The article can be read by clicking here.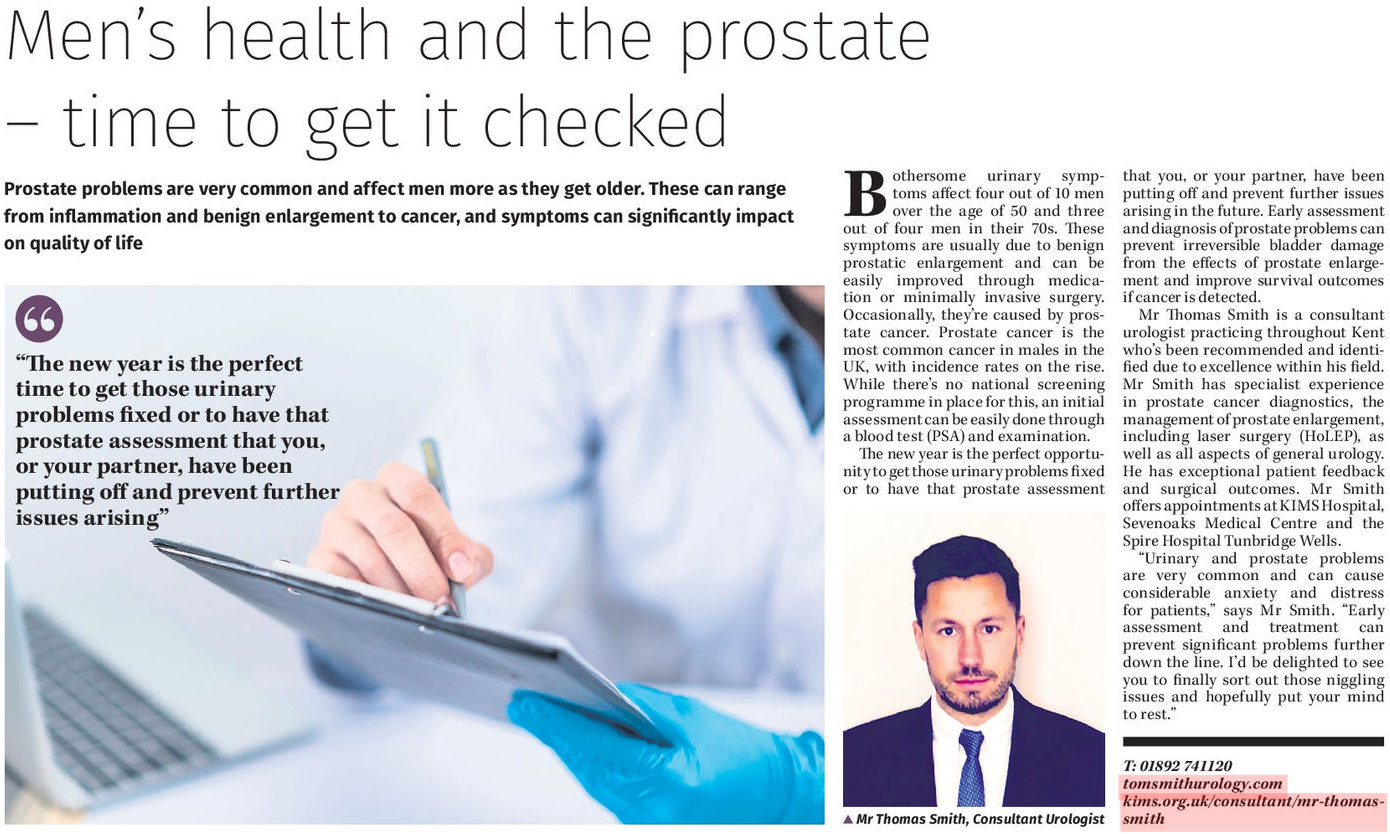 Special Interests
General Urology, Management and prevention of Kidney Stones, Stone Surgery (Ureteroscopy, Percutaneous Nephrolithotomy), Endourology, Holmium Laser Enucleation of the Prostate
Our team are on hand to help answer any queries you might have about coming to KIMS Hospital or Sevenoaks Medical Centre. You can use the form below and one of our team will be in touch. Alternatively to speak to a member of our friendly team, please call 01622 237 500 between 8am-8pm Monday to Friday.