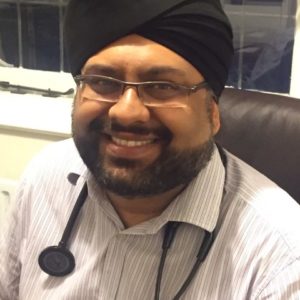 Dr Gurminder Khamba
BSc Hons, MBBS, MRCP, SCE (Nephrology), PG Cert
Enquiries & appointments
General, elderly & renal medicine
NHS Practices
King's College Hospital NHS Foundation Trust
Professional Profile
Born in Greenwich, London, Dr Gurminder Khamba trained at University College London Medical School. After gaining wide range general medical experience he achieved Membership of the Royal College of Physicians (MRCP). Dr Khamba then went on to further specialist training at the internationally renowned John Walls Unit at University of Leicester Hospitals and completed his higher specialist training in Renal Medicine and General Medicine.
Dr Khamba has also spent time working at a national level with HSCIC and the Royal College of Physicians, looking at developing national standards for transferring clinical information across information systems. He has developed this further by obtaining a Post Graduate Qualification in Health Informatics at University College London.Over the years Dr Khamba has developed extensive experience in the management of glomerular disease covering both initial management and long term immunosuppression strategies. He has expertise in chronic kidney disease management and has a specialist interest in hypertension and cardiovascular risk management. He has expertise in renal replacement therapy, encompassing both haemodialysis (acute and long term) and long term renal transplantation management. In addition, Dr Khamba provides general medical expertise covering both acute medical emergencies management and long term conditions.
Dr Khamba is a Consultant Nephrologist and Physician at Kings College Hospital NHS Foundation Trust where he provides inpatient and outpatient care to patients under Renal Medicine, General and Acute Medicine. He also teaches Junior doctors and medical students from Kings College London Medical School.
Special Interests
Renal Medicine, Chronic Kidney disease and Electrolyte disturbances, General and Acute Medicine, Hypertension
Make a general enquiry

Appointment enquiry
Our team are on hand to help answer any queries you might have about coming to KIMS Hospital. You can use the form below and one of our team will be in touch. Alternatively to speak to a member of our team, please call 01622 237 500.