Malcolm Greer – Pacemaker
Malcolm came to KIMS Hospital in December 2018 to have a pacemaker fitted. Since having this procedure, he feels like a different person, back to living life without having to worry.
Enquiries & appointments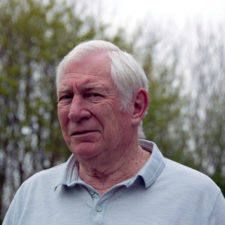 I am able to go out walking and get out into the garden to do a spot of gardening – these are things I couldn't do before as I was struggling to walk without a frame and my breath wouldn't last long enough.
Interventional cardiology
Outpatient cardiology
Deciding to get treatment
After undergoing a quadruple bypass in 2006, Malcolm has two heart checks per year to ensure his heart is healthy. Since KIMS Hospital opened in 2014, he has been having these check-ups at the hospital with Consultant Cardiologist, Dr Winston Martin.  Alongside these, he also monitors his own blood pressure and pulse daily at home for peace of mind.
In December 2018, Malcolm began to feel unwell; he noticed his blood pressure and pulse were erratic. After monitoring this for a few days and not being happy with the readings, Malcolm decided to make an appointment to see Dr Martin.
He made his appointment via the Enquiries Team, who were very helpful and organised it all very quickly. Malcolm had to have a heart monitor fitted for 24 hours prior to his appointment which was also organised with ease.
"When I arrived for my monitor fitting the porters helped me out of my car and the Outpatient Team were friendly and reassuring, by taking the time to explain the process and fitting the monitor. All of the teams worked so closely together; it made my experience flow very nicely."
Malcolm saw Dr Martin on the 20th December, where he carried out a thorough examination and discussed the results from the heart monitor. Dr Martin explained that Malcolm needed a pacemaker fitted urgently and wasted no time in providing him with all of his treatment options.
Due to being so close to Christmas, Malcolm was worried he would not be able to have a pacemaker fitted at such short notice. However, Dr Martin was able to speak to his colleague Consultant Cardiologist, Dr Peter Kabunga who had a theatre list on the 24th December and was able to accommodate Malcolm's pacemaker fitting.
"Knowing that my treatment was all organised was very reassuring. I walked out from my consultation with Dr Martin feeling truly cared for and as if a weight had been lifted from my shoulders"
The KIMS Hospital experience
On the 24th December, Malcolm arrived for his procedure with Dr Kabunga. Malcolm was taken to the Dickens Day case ward where he was greeted by the friendly nursing team and Dr Kabunga who talked him through the procedure.
Within an hour of arrival, Malcolm had his procedure and was back on the ward recovering. He instantly felt better and his pulse had steadied. Dr Kabunga came to check on Malcolm, which was very reassuring. After some lunch (which was fantastic!), he was able to leave for home in time for Christmas. That evening Malcolm also received a call from Dr Kabunga to check he was still feeling well and answered any questions – Malcolm was very impressed with this level of service.
"Since having my pacemaker fitted, I feel like a different person and I am able to live my life the way I want to. I am able to go out walking and get out into the garden to do a spot of gardening – these are things I couldn't do before as I was struggling to walk without a frame and my breath wouldn't last long enough. The level of service I received from the porters to consultants was first-class. I was impressed with how the teams all worked together in such a short space of time and just before Christmas to make my treatment possible. It was the best money I have spent – you cannot put a price tag on your life."