How we keep you safe
We are passionate about delivering safe, outstanding, quality care for our patients and providing the highest quality healthcare services is our priority.

Care Quality Commission (CQC)
The Care Quality Commission (CQC) is the independent regulator of health and social care in England. They register care providers and monitor, inspect and rate their services ensuring that they provide people with safe, effective, compassionate, high-quality care.
We were inspected by the CQC in 2018, and rated 'good' across all services and domains with some areas of outstanding practice highlighted, notably for our cardiac catheterisation laboratory, which is part of the only interventional cardiology suite in an independent hospital in Kent.
As the largest independent hospital in Kent, we are committed to a culture of continuous improvement and development.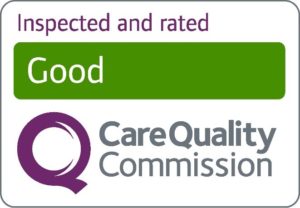 How we work with consultants & other independent medical practitioners
The consultants we work with are independent medical practitioners. They aren't KIMS Hospital employees, but they are required to adhere to our policies and procedures when working with us.
We take the safety of our patients incredibly seriously. The Paterson Inquiry report (February 2020) made a series of recommendations to all independent healthcare providers on how we can communicate better with our patients about how we keep you safe. Click the button below to read more about how we select and carefully vet every consultant to the highest standards.
Read more about how we work with consultants
Infection Prevention & Control (IPC)
We have always placed infection prevention and control (IPC) at the heart of good and safe clinical practice and are committed to reducing the risks of healthcare-associated infections (HCAIs) being acquired within our hospital. Since opening in 2014, we have had zero bacteraemia infections and our environmental audits continue to exceed National targets.
To ensure we continue to meet our exacting standards, we employ a full time dedicated Infection Prevention and Control Lead Nurse. They ensure that the risk of infection from any procedure undertaken at the hospital is minimised through a range of prevention and control processes. Our IPC Lead Nurse works closely with all our teams to educate, carry out surveillance and audits and provide advice and information not only to our teams but also to patients and the public.
You can find out more about our management of IPC by downloading our Director of Infection Prevention & Control Report 2021-2022.
Covid-19
We closely monitor guidance from the Department of Health and Public Health England with a focus on patient safety, staff and consultant safety and the safety of our premises.
If you test positive for Covid-19, do not come to the hospital. Please be aware patients who test positive for Covid before their admission date will have their procedure cancelled and re-dated. We therefore advise precautions are taken to minimise risk including wearing face masks and restricting contact with others.
Resident Medical Officers     
As part of our commitment to provide safe, outstanding quality care, we work with a third party who employ experienced Resident Medical Officers (RMOs) who are then reviewed and vetted before being accepted to KIMS Hospital to provide assistance and support to our patients, nurses and consultants.
Resident Medical Officers are registered doctors with medical and surgical experience, living on-site at the hospital to ensure care is available 24/7. They are also there to provide care when a patient's consultant is not present in the building.
Our RMOs primarily work with our surgical inpatients, conducting ward rounds, prescribing medication and issuing medical certificates; this ensures our nursing teams are well supported at all times.
Quality & Governance Sub Committee
Quality and Governance at KIMS Hospital provides a framework to ensure the delivery of safe, effective and high quality healthcare. We work with a Quality & Governance Sub Committee to carry out the relevant assurance with respect to the quality of the products and services provided by us for our patients.
The Quality & Governance Sub Committee comprises our Chief Executive Officer, Chief Nurse, Medical Director, Deputy Chief Nurse and Quality Improvement Manager. It also has three members who are independent of the hospital including an external medical representative and governance expert.  The committee reports directly to the Board and helps to shape the Quality and Governance across the hospital.
The role of the Quality & Governance Sub Committee is to review the measures, quality indicators, and trends over time within the Care Quality Commission's (CQC) quality domains of safe, effectiveness, caring, responsiveness and well-led. They also seek assurance that quality reports identify clearly the level of compliance with regulatory and quality standard as required within our CQC registration.  The committee visits the hospital annually and conducts meetings with various members of the team, visits different areas of the hospital both clinical and non-clinical to review processes and advises on areas for continual improvement.
National Joint Registry (NJR) Quality Data Provider
Patient safety is our top priority and this is demonstrated by our NJR Quality Data Provider award for 2020/2021. The NJR collects information on hip, knee, ankle, elbow and shoulder joint replacement surgery in England, Wales and Northern Ireland and monitors the performance of joint replacement implants. Our team works hard to meet a number of challenging data targets set by the NJR, receiving over 95% for our data quality rating for all submissions.
The scheme is designed to improve clinical outcomes for the benefit of patients, clinicians and industry by recognising and rewarding best practice; increasing engagement and awareness of the importance in quality data collection; and helping embed the ethos that better data informs and ultimately enables improved future care.
Nurse revalidation and competencies
All nurses and midwives working in the UK are required to undertake revalidation in order to maintain their registration with the Nursing and Midwifery Council (NMC).  Revalidation helps nurses to demonstrate that they practise safely and effectively in accordance with the Code and that they ensure they are working to the standards set out within it.
All of our nurses have to go through the revalidation process every three years in order to renew their registration with the NMC. Alongside this, all of our nurses have annual appraisals, which includes setting personal development objectives and supporting mandatory training.  Our Practice Development Lead ensures that all of our nurses receive ongoing clinical training and that their competencies are maintained through a programme of both internal and external training.
Best practice
As the largest independent hospital in Kent, it is important that we ensure all of our team, both clinical and non-clinical, maintain best practice for their particular area of expertise. All of our teams keep up to date with the latest information provided by the National Institute for Health and Care Excellence (NICE) who provide evidence-based guidance and advice for practitioners. We have a system of continual professional development where teams share best practice examples and learn from each other as well as external industry leaders.
We are a member of the Independent Healthcare Providers Network (IHPN), which is the representative body for the independent sector. The IHPN ensures that independent hospitals such KIMS Hospital, promote the safety and quality of patient services delivered by those in the sector, support health education and training and act as a point of contact between their members and healthcare regulators.
Being able to freely raise any concerns our team members may have is all part of creating a great place to work. We have two appointed Freedom to Speak Up Guardians who cover both clinical and non-clinical areas. This is part of the continued effort by the Government to build a culture of safety within the NHS and in all health and care providers. Our designated Guardians have been appointed to ensure that all staff have someone to turn to should they wish to raise a concern about patient safety, adding to our Speak Up culture.
What to expect from Independent Healthcare
At KIMS Hospital we are committed to providing safe, outstanding quality care for our patients. Our commitment includes ensuring all our patients have a good experience with us.
The IHPN, in conjunction with the Patients Association, have produced a short online animation on what to expect from independent healthcare. This can be viewed below: