Coronavirus Information For Our Patients
Important information for our patients during the coronavirus (Covid-19) outbreak
Wearing a face covering at KIMS Hospital & Sevenoaks Medical Centre
Our priority has always been to keep our patients, staff and other visitors as safe as possible.
As of Monday 15th June, in line with Government recommendations, we're asking patients and anyone else visiting our sites to wear a face covering at all times to help reduce the spread of COVID-19.
A face covering does not need to be a clinical face mask. It could be a scarf or a home-made mask that covers your nose and mouth. The Government has provided a page on it's website about how to wear and use a face covering. You can visit it here.
We are asking you to bring a face covering with you whenever possible, but if you do not have one available when you arrive, please speak to a member of the team before you enter the building.
As well as face coverings, we are still asking everyone to adhere to existing social distancing and hand hygiene measures.
There are some exceptions, including people with breathing difficulties and children under 11. If you feel you cannot safely wear a face covering when you come to hospital, please call us to discuss on 01622 237 500.
Thank you in advance for your co-operation.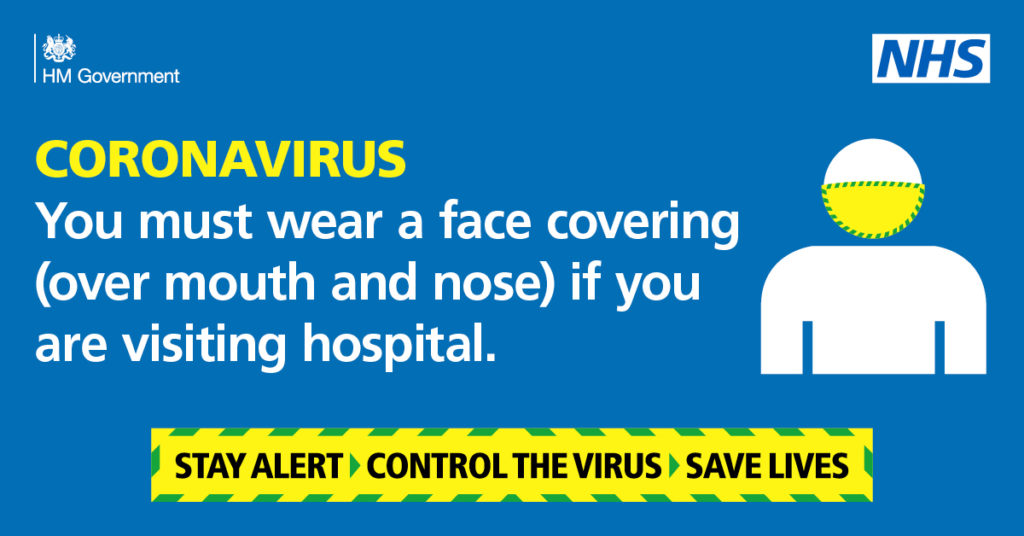 Supporting the NHS during the COVID-19 Outbreak
Our mission has always been to provide safe, outstanding quality care for our local community. Along with other independent healthcare providers across the county, we are working closely with the NHS to support them by providing care to those patients that still need urgent treatment for other health conditions during the COVID-19 outbreak.
We'll be updating this page with new information about reopening for our private patients soon.
Thank you for your support and understanding.
Visitors
So that we can protect the safety of our patients and staff, it is important for us to reduce the number of visitors as much as possible.
Therefore from Monday 30th March, until further notice, we are asking that the following be adhered to:
If you have an outpatient appointment, please come alone. If you need someone to drive you, we politely ask that they wait in the car
Visitors are not permitted into KIMS Hospital to see inpatients at this time
We can review these measures on an individual basis for special cases. Please contact us by calling 01622 538 153 or emailing patientupdates@kims.org.uk if you wish to discuss your upcoming appointment.
We understand these measures are strict, but we hope you agree they are necessary for the safety of all. Thank you in advance for your understanding.
Latest Government Advice
You can find all the latest advice regarding COVID-19 on the Government's website. Visit the gov.uk website