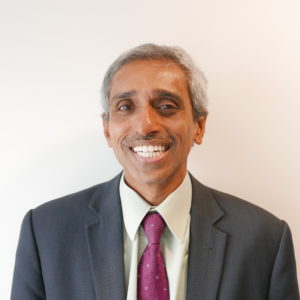 Mr Tony Elias
MS; FRCS Ed; FRCS Glasg: MCh; FRCS (Surgical Neurology)  
Enquiries & appointments
Neurosurgery & spinal surgery
Scans, tests & treatments available
Professional Profile
Mr Tony Elias is a Consultant Neurosurgeon with special interest in spinal disorders. He treats all pathologies, both routine and complex, including degenerative disc diseases in the neck and lower back. He is experienced in instrumenting at all levels of the spine. He understands the importance of care, compassion and good communication; and is keen to discuss all treatment options with his patients. TrainingMr Elias finished his basic medical degree and neurosurgical training in India; he has worked in a number of reputed hospitals including Hinduja National Hospital in Mumbai, and has been a faculty member in training programmes.
After coming to the UK, he was selected for the London Neurosurgical rotation, which he completed in 2008 and obtained the intercollegiate fellowship of the Royal College of Surgeons; he went on to do a Paediatric Neurosurgery fellowship at Great Ormond Street Hospital, London and a Complex Spinal Fellowship at the National Hospital for Neurology and Neurosurgery, Queen's Square, London. TeachingMr Elias is passionate about teaching medical students in addition to acting as an examiner and interviewer of medical students at Brighton and Sussex Medical School. He has published a number of papers, and has delivered numerous educational papers at local, national and international meetings. He is committed to safety in surgery and improvement in patient outcomes, resulting in better patient experience.  
Special Interests
Spinal Surgery
Make a general enquiry

Appointment enquiry
Our team are on hand to help answer any queries you might have about coming to KIMS Hospital. You can use the form below and one of our team will be in touch. Alternatively to speak to a member of our team, please call 01622 237 500.